Aluminum > Round Rods > 6063 Series
6063 Aluminum Round Rods
This product has best all-around extruding properties. 6063 can be used for comparatively intricate sections and is excellent for hollow extrusions.
Takes a good surface finish, is corrosion resistant and can be anodized. Its strength, as extruded, is somewhat higher than that of 3003. It can be precipitation heat-treated to strengths just under 6061 alloy.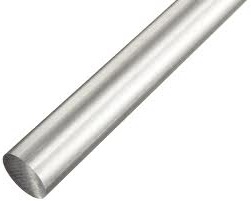 6063-T52 Aluminum Round Rods

Unpolished (Mill) Finish, ASTM B221

Stock #
Diameter
Diameter Tolerance
96" Length
Purchase Online
MR-1447
.375"
+/-0.008"
$15.08

Buy Now

MR-1448
.500"
+/-0.009"
$25.60

Buy Now

MR-1449
.750"
+/-0.010"
$49.94

Buy Now

MR-1450
1.00"
+/-0.012"
$88.80

Buy Now
Note: with the volatile steel, metal, copper, etc market rapidly changing, pricing is not guaranteed and will be reviewed upon order.