TygonŽ Pressure Tubing
A-60-F I.B.
Handles at least 4 times the pressure of non-reinforced tubing
Temperature resistant from
-60F to 275F
Ozone and UV light resistant
Repeatedly autoclavable
Chemically compatible with a wide range of fluids
Meets FDA, 3A and NSF Criteria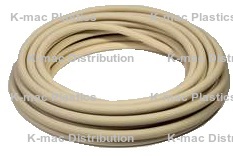 TygonŽ Pressure Tubing
Ideal for use in clean-in-place and steam-in-place cleaning and sterilization systems, TygonŽ Pressure Tubing has excellent alkali resistance and is compatible with numerous oxidizing agents such as hydrogen peroxide, sodium hypochlorite and ozone. Tygon Pressure Tubing fully complies with FDA 177.2600 criteria, 3A Sanitary Standards and NSF Standard 51, which are applicable to many food contact applications.

TygonŽ Pressure Tubing exhibits excellent resistance to ozone and UV light, with little or no signs of deterioration in laboratory testing equivalent to 10 years of outdoor exposure. TygonŽ Pressure Tubing provides long service life when exposed to heat, abrasion and pressure. It is temperature resistant up to 275F and retains flexibility to -60F.

Was NorpreneŽ A-60-F-IB
TygonŽ

Pressure Tubing A-60-F IB

TygonŽ

Part #

Outside diameter

Inside Diameter

Wall

Stock #

Cost Per Coil (50 feet)

Purchase Online
APW00019

0.500

0.250

0.125

KM-2935

$321.40

Buy Now
APW00029

0.625

0.375

0.125

KM-2936

$392.00

Buy Now
APW00038

0.750

0.500

0.125

KM-2937

$531.80

Buy Now
APW00046

0.875

0.625

0.125

KM-2938

$601.10

Buy Now
APW00054

1.063

0.750

0.156

KM-2939

$757.70

Buy Now
APW00064

1.375

1.000

0.188

KM-2940

$1,156.30

Buy Now