PharMed® BPT Autoclavable Tubing
Long life peristaltic pump tubing with low particulate generation. Can be repeatedly autoclaved. Opaque to visible and UV light for sensitive fluid protection. Fully characterized in accordance with USP and ISO 10993 guidelines. Shore A, 64.
PharMed® Tubing has very good general chemical resistance and excellent acid, alkali and oxidation resistance. Opaque to visible and UV light, it helps protect sensitive fluids. Continuous service temperature range is -60F (-51C) to 275F (135C).
Application
PharMed® Tubing is less permeable to gases and vapors than silicone tubing. It is ideal for cell culture, fermentation, synthesis, separation, purification and process monitoring and control. Independent tests show that PharMed® Tubing is safe for use in sensitive cell culture applications.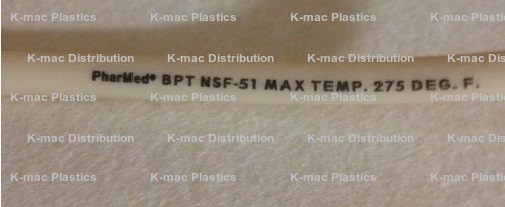 PharMed

®

, 25 Foot Coils, Coiled
PharMed® Part #

Outside Diameter Inches

Inside Diameter Inches

Wall Inches

Stock #

Price/25' Coil

Purchase Online
Custom

0.031

0.010

0.010

KM-3865X

$599.48/500'

500' Coils, 4,000 ft min.
AY242605

0.145

0.020

0.062

KM-2655

$84.80

Buy Now
AY242606

0.156

0.031

0.063

KM-2656

$100.60

Buy Now
AY242002

0.125

0.063

0.031

KM-2657

$106.60

Buy Now
AY242003

0.187

0.063

0.063

KM-2658

$129.70

Buy Now
AY242005

0.219

0.094

0.063

KM-2659

$153.80

Buy Now
AY242006

0.187

0.125

0.031

$116.80

Buy Now
AY242007

0.250

0.125

0.063

KM-2661

$129.70

Buy Now
AY242012

0.312

0.188

0.063

KM-2662

$132.40

Buy Now
AY242017

0.375

0.250

0.063

KM-2663

$156.10

Buy Now
AY242019

0.500

0.250

0.125

KM-2664

$275.30

Buy Now
AY242022

0.437

0.313

0.063

KM-2665

$164.00

Buy Now
AY242027

0.500

0.375

0.063

KM-2666

$199.50

Buy Now
AY242029

0.625

0.375

0.125

KM-2667

$259.40

Buy Now
AY242038

0.750

0.500

0.125

KM-2668

$317.50

Buy Now
AY242046

0.875

0.625

0.125

KM-2669

$375.60

Buy Now
AY242056

1.000

0.750

0.125

KM-2670

$523.80

Buy Now